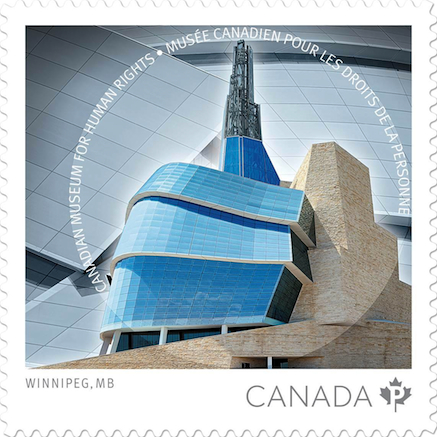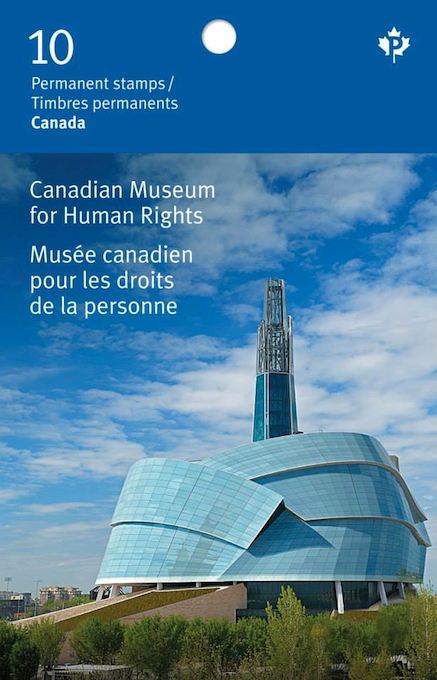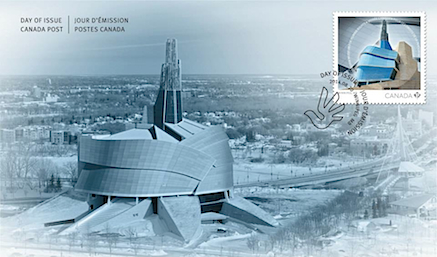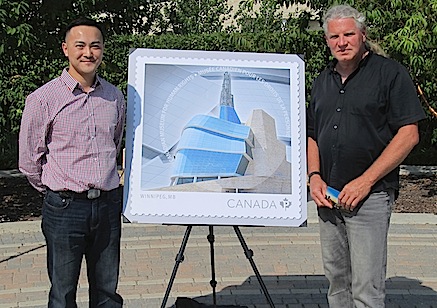 Winnipeg, Manitoba
Canada Post today released the commemorative stamp (designed by Circle) featuring the Canadian Museum for Human Rights, one month before the building opens. The museum is located near the Forks National Historic Site in downtown Winnipeg, a meeting place dating back thousands of years at the junction of the Assiniboine and Red rivers. It is the first national museum to be built since 1967, the first ever to be located outside of the National Capital Region, and the first museum in the world solely dedicated to the evolution, celebration, and future of human rights.
The ceremonial stamp unveiling took place at the west base of the Esplanade Riel pedestrian bridge on Mahatma Gandhi Way, and was covered by various local and national media outlets (e.g. here, here, here, and here).
"Canada Post's stamps tell stories of our history, our heritage and our Canadian identity. The Canadian Museum for Human Rights will invite the world to reflect on human rights struggles – both inspiring and tragic – and encourage action for a better future. This stamp commemorates a symbol of our global human rights aspirations, told through a uniquely Canadian lens," says Deepak Chopra, President and CEO, Canada Post.
The Canadian Museum for Human Rights permanent rate stamp measures 40 mm x 40 mm and is available in booklets of 10 stamps. An Official First Day Cover has also been issued, measuring 191 mm x 113 mm and cancelled in Winnipeg. The stamps can be purchased at any Canadian Post Office or ordered here.
Stamp design direction : Alain Leduc, Canada Post (Ottawa)
Creative direction : Robert L. Peters, Circle Design Incorporated
Graphic design : Adrian Shum, Circle Design Incorporated
Photography : Mike Grandmaison
Printing : Lowe-Martin Group (Ottawa)
Images above : The stamp, booklet, and official first day cover; Adrian Shum and Robert L. Peters at the unveiling ceremony.